The product qualities of PVC have ensured it a place as the material of choice for many applications. It is also a safe product. Nevertheless, as with any other materials it needs to be handled correctly, especially in certain phases of its life cycle if it is to have a role in a sustainable future for society. The PVC sector is a responsible and transparent industry. It continues to improve the performance and safety profile of its product and provides information to stakeholders on such progress.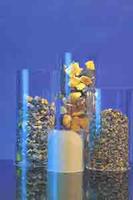 PVC production processes have been continually improved in recent years and their environmental impact steadily reduced. The European PVC industry recognises that, along with all other manufacturing industries, it must pursue continual environmental improvement. The European PVC industry contributes towards the world-wide chemical industry's Responsible Care Programme. In 1995, all European PVC producers that where members of ECVM came together to sign a voluntary Industrial Charter for suspension PVC (S-PVC). This committed all ECVM members to stringent environmental standards for PVC production. In February 1999, ECVM members who manufacture PVC by the emulsion process, signed a new Charter to cover E-PVC.
In July 1999, independent auditors confirmed that the industry had achieved 88% compliance with the tough targets that had been set by the groundbreaking S-PVC Charter, which also covers EDC/VCM manufacturing. A second verification carried out in 2002 concluded that the compliance rate had increased to 93%. A further 4% were either partially compliant or lacked enough evidence to demonstrate full compliance.
The auditors' public statement can be downloaded here.
Auditor E-PVC Public Statement
The performance of the emulsion PVC plants during the second half of 2004 was assessed early 2005 against the E-PVC Charter. The overall compliance of this verification was 71% against the combined three criteria for VCM emissions to air, to water and in final product. This is because only 57% of the plants achieved full compliance for residual VCM in final products against the single Charter limit of one gramme per tonne for all grades of PVC.
However: across all verified plants, approximately 95% of final E-PVC produced during the verification period complied with this criterion.